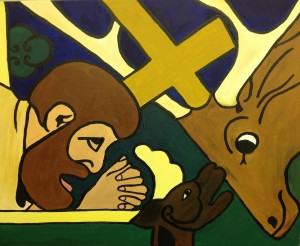 St. Hubert lived in Belgium in the  600s.  He loved to go hunting.  One day St. Hubert was out hunting, but he ended up finding out that someone was hunting him: Jesus Christ.
St. Hubert was converted; he gave all of his money to the poor, and later became a bishop – and not just any bishop, but a missionary bishop.  St. Hubert even moved the location of his diocese so that he could share the goodness of the Merciful Heart of Jesus to as many people as possible.
We here at the Catholic Community of St. Hubert hope to imitate the vision and virtue of our patron: by facilitating a personal encounter with the love of God in all we do.